Iconomics
May 17 - June 5, 2005

Opening Reception:
Saturday May 21, 3 to 6pm

Pleiades Gallery,
530 West 25th Street
Chelsea

"Sheila Finnigan's work . . . is immediately appealing . . ."
New York Times, March 4, 2001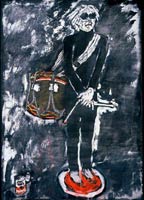 In her second New York solo show in less than a year, Sheila Finnigan presents imaginative new paintings of familiar icons. Finnigan once again pays ambivalent tribute to Andy Warhol and also offers a unique take on Marilyn Monroe, Jackie Kennedy and Leonardo daVinci as she continues to dramatize "Cross Pop Culturalism" in a post-modern reality.

Sheila Finnigan's paintings are accompanied by installations which inspired them, including a US Army drum which Warhol beats while standing in a bowl of Campbell's tomato soup, and a WWI US Army medical field cot on which Warhol, Marilyn and Jackie recline in separate paintings in the manner of the French painter, Jacques Louis David's "Madam ùe Recamier."

Finnigan has had numerous solo and juried group exhibits throughout the country, including the Hunter Museum of American Art juried by Donald Kuspit. Her award-winning work has been featured in numerous publications, including "New American Paintings" juried by Beth Venn, Curator at the Whitney Museum of American Art.

Her work has been reviewed widely, most notably by William Zimmer of the New York Times ("Sheila Finnigan's work...is immediately appealing", March 2001) and most recently by Ed McCormack of Gallery & Studio, an international art journal, who reviewed Finnigan's 2004 New York solo show ("The good news is that real painting survived Andy, and that Sheila Finnigan is around not only to exemplify it but to tell the tale", September/October 2004).